We are making our home give the best living to our family. When we make it, we keep in mind that we use the latest designs, materials, AV systems, etc. available in the market because we know that we are going to use this home for a longer period of time. We also keep provisions for future use. But do we keep provision for technology up-gradation?
When starting to make a home, we might not have finalized audio-video systems, control systems, and/or automation systems. And that is obvious. But as our home comes to its final touch, we feel that if we would have gone for lighting control and audio video control, life would be more convenient. But at this final stage, we come up with two solutions : (1) Either do re-wiring to suit our required product but it will cost us money and most importantly time. And the date of integration changes as the date of Court. (2) Or we have to compromise with the components which fit in our wiring but ultimately it will not satisfy our need. Is it what we dreamed about in our home?
What if we keep provision for future technology and keep our home always up to date & latest!!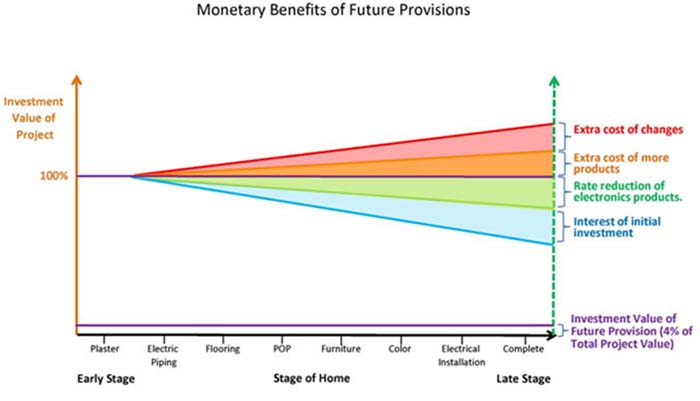 Major Benefits:
Our home will be ready for future technologies.
We start building a new home today and we go to stay at home after about 1 to 2 years!! If provisions are there we can decide what to use and what to not at that time. Currently, we need not decide what we are going to use after 2 years.
No hassle on the time of installation for an electrician, interior, and also for you.
It saves 20% to 30% of Rupees on Audio, Video, and Automation Devices. As well as we can share the devices.
These type of functionalities are being used worldwide and also recommended by many research institutes like the following: